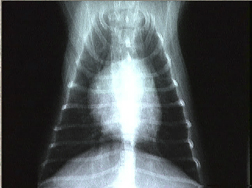 Our state of the art digital radiographs are available to view and analyze just seconds after the picture is taken. Digital Radiographs are much easier to interpret than emulsion films, and we can make a more accurate diagnosis. If necessary, digital media is much more convenient to share with specialists over the internet when extremely challenging cases come our way. Whether your pet has injuries due to trauma or a systemic illness, making a rapid diagnosis allows us to begin treatment faster.
As you look around it seems like virtually everything has gone digital, and your pet's visit to the Animal Clinic of Millville is no exception! Animal Clinic of Millville has had digital radiography since 2008, digital x-rays have now become mainstream in veterinary medicine.
This technology is benefiting, pets, owners, and veterinarians everywhere.
With digital films the image literally pops up on a screen near the machine within seconds of taking the X-ray. Minor adjustments can be made with minimal effort, causing much less stress to the staff and the patient.
Digital radiographs images are as portable as things come. A digital X-ray can be sent remotely to a screen for the pet owner to view or for other doctors to discuss. Should you wish to take your images for a second opinion or your pet need to be referred to a specialist, the images can easily be sent to the appropriate location. Also, digital images take up much less storage space than old-style films!
Another nice thing about digital radiographs is the image quality. Not only are better images obtained due to the immediate feedback that is received, but digital technology produces a much clearer, more detailed image. This gives the veterinarian much more information to work with.
Digital radiography is truly a step into the future. This fast, efficient technology is truly representative of the digital age here at the Animal Clinic of Millville.